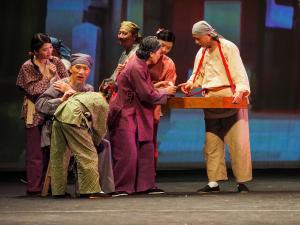 Tech Executives portraying the Mayor of Happy Village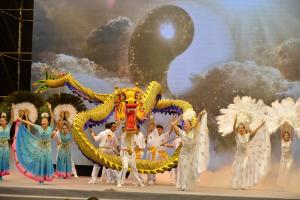 Ancient Celestial Creatures bestow their blessings and pray for peace
Balancing Technology and Spirituality; Activating Conscience to Resolve Crises
CALIFORNIA, UNITED STATES, October 3, 2023 /EINPresswire.com/ — Is technological advancement a force for peace or a tool to "open the door to Hell" as António Guterres, the UN Secretary General, put it? Premiering in California, the world's leading technological trend, the exciting spiritual and cultural feasts "Back to the Origin" and "Cultural Gems: Love and Prayers for the World", produced by Tai Ji Men Shifu (Master), Dr. Hong, Tao-Tze, and performed by thousands of Tai Ji Men dizi (disciples), who have been recognized as the international ambassadors of peace and goodwill, are sure to arouse the thoughts of countless audience members concerned about the future of technological development. The play calls on the pure conscience to balance technological development and spiritual stability, playing a key role in important moments and injecting positive energy into the world's technological hub in Silicon Valley. For a sneak preview of the performances, please click here: https://www.youtube.com/watch?v=_ziWOHWxfa4
Performances in San Jose

★ October 6 (Friday)

Theme: Back to the Origin

Time: 7 – 9 p.m.

★October 7 (Saturday)

Theme: Cultural Gems: Love and Prayers for the World

Time: 2-5 p.m. and 7-10 p.m.

Venue: San Jose Center for the Performing Arts

Address: 255 S Almaden Blvd, San Jose, CA 95113

Reserve free tickets at: https://www.taijimen.org/events/sj-opening
Performances in Pasadena

★October 15 (Sunday)

Theme: Back to the Origin

Time: 2 – 4 p.m.

Theme: Cultural Gems: Love and Prayers for the World

Time: 7 – 10 p.m,

Venue: Pasadena Civic Auditorium

Address:300 E Green St, Pasadena, CA 91101

Reserve free ticket at: https://www.taijimen.org/events/la-opening
What caused a once happy and peaceful village to suddenly erupt into chaos and turmoil without any apparent reason? The story of Happy Village serves as a microcosm reflecting the ongoing conflicts and challenges present in today's world.
The storyline of "Back to the Origin" is indeed captivating. As the protagonist embarks on a journey through time and space, returning to the origins of the universe, Tai Ji brings everything to life. Seasons transition, the roots of martial arts are unveiled, and the intricate connection between humanity and nature becomes evident. This exploration encompasses the development of mankind and the future of our world.
Mr. Jones Hong, portraying the Mayor of Happy Village, holds a senior position in the technology industry. He reflects, "Why did this once happy and peaceful village suddenly descend into turmoil for no apparent reason? The journey of Happy Village mirrors the ongoing conflicts in our world. When people lose touch with their pure conscience, calamities and disputes abound. The key to peace lies within the hearts of individuals. The awakening of conscience, self-improvement, and divine assistance will guide us towards a brighter future."
The cultural showcase featured five celestial creatures from the East – the dragon, phoenixes, peacocks, lions, and qilin (unicorns), along with Angels of Love from the West, bestowing blessings upon the world. Sean Shen, a semiconductor department manager and one of the dragon dancers, explained that nine disciples, spanning ages 20 to 60, collaborate to bring the dragon dance vividly to life. In ancient times, the simultaneous appearance of the dragons and phoenixes symbolized a world of purity and peace. Today, amid rapid technological advancement and material pursuit, people often lose their inner purity. The performance aims to rekindle the balance between technology and a pure heart to help individuals rediscover their inner conscience and lead more stable, harmonious lives. Combining modern technology, special effects, animation, sound, and light, the showcase not only highlights the beauty of art and culture but also imparts the enduring spirit and values of ancient traditions spanning 6,000 years. This unmissable experience bridges the gap between tradition and modernity, offering profound insights into the human condition.
About Tai Ji Men

Tai Ji Men, renowned as "International Ambassadors of Peace and Goodwill", with a brilliant record of visiting over a hundred countries across six continents and participating in more than 3,000 cultural performances, is set to ignite a modern martial arts storm in California, USA this October. Tai Ji Men is an international non-profit cultural organization with a mission to preserve the heritage of Tai Ji Men culture and enhance the physical and mental well-being of individuals worldwide. Tai Ji Men is committed to spreading the values of peace, love, and conscience, and we look forward to continuing our mission for the betterment of humanity.
In the year 2000, Dr. Hong, Tao-Tze, the leader of Tai Ji Men, established two Tai Ji Men Academies in California. This October, there will be a grand opening of a new academy in Santa Clara and Pasadena respectively. Dr. Hong has devoted his life to guiding Tai Ji Men disciples and members of the Federation of World Peace and Love (FOWPAL) to form delegations across all six continents. Their goal has been to promote a culture of peace founded on love and conscience, and they have undertaken these missions with their own resources and efforts. Dr. Hong played a pivotal role in the establishment of the United Nations' International Day of Conscience. Moreover, in recognition of the 1.2 million hours of dedication contributed by Dr. Hong and the members of FOWPAL to the United States, U.S. President Joe Biden bestowed upon him the Presidential Lifetime Achievement Award in March of this year.
Contacts of Tai Ji Men Qigong Academy

Jennifer Hong (408) 896-8985

Lily Chen (626)202-5268

[email protected]

[email protected]
Jenny Hsiung
Tai Ji Men Qigong Academy
[email protected]
Visit us on social media:
YouTube
Other
Cultural Gems Transcending Time and Space Back to the Origin
Originally published at https://www.einpresswire.com/article/659255420/tai-ji-men-brings-celestial-creatures-to-pray-for-peace-featuring-cultural-gems